Are you the type of person who loves performing DIY home projects? Whether it's a minor fix for the lighting fixture, tweaking some plumbing solutions, or performing home enhancements, your handy skills aren't enough to get you going. You should be fully equipped with the right power tools to get these all tasks sorted.
Although you may have some essential hardware tools in your toolbox, there are many other handy devices and equipment you need. It's time to invest in them so you can have a more convenient and time-saving time performing your quick DIY home repair activities.
Here are some of the must-have power tools, which you can find at the Data Power Tools website and other similar online stores:
1) Wireless Drill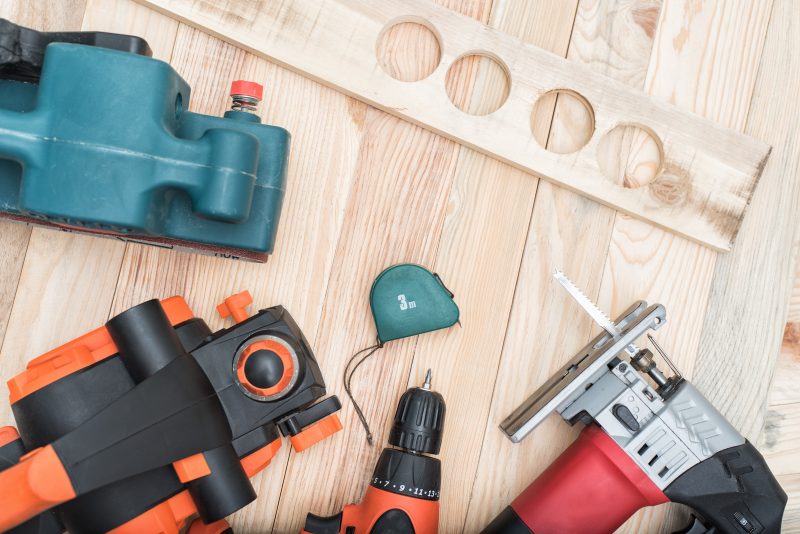 Every DIYer needs a wireless drill in their handy life. The cordless drill is indispensable for mounting shelf brackets, assembling furniture, or even as simple as hanging a painting or frame.
Even small drills can pack a punch, as long as you use the best lithium-ion batteries. When looking for the most appropriate wireless drill to be added to your toolbox, go for a large and powerful model.
It should be enough to handle large-scale projects, yet suitable to use even in hidden corners or hard-to-reach areas. This is the best addition, or, rather, the first power tool that you must invest in.
You can also buy it as a gift for someone who loves doing handy jobs just like you do. While you're at it, ensure to purchase various kinds of screws and their drivers.
2) Electric Sander
Electric sanders are commonly used in home improvement projects. All homeowners and contractors should have this tool. Imagine when you need to manually send a wide surface and how much time that would take to finish. Let this electric sander save you from all that trouble.
A more significant amount of work can be completed in less time by using an electric sander, resulting in a better-finished product.
Electric sanders are typically random orbital, which means they leave no noticeable scratches on wood surfaces. They're also responsible for making easy and smooth corners on sharp edges. Invest in this power tool now, and your future self will thank you for it every time.
3) Jigsaw
A jigsaw is your tool of choice for cutting wood or metal in circular or curved forms, which don't require an even edge.
There are many constructions and home improvements you can do to increase your home value, and these require its use. For example, you need to cut an electrical outlet hole in the plywood—a jigsaw can allow you to do this work.
Multi-purpose cutters can be used without difficulty on steel or fiberglass, too. So, the materials they can cut go beyond just wood. Cordless or corded jigsaws are both available. You can choose to invest in either type, as they both have their merits and demerits. Whatever decision you choose, buy a jigsaw and add it to your power tools collection.
4) Air Compressor
A surprising number of DIY projects can be accomplished with an air compressor. With it, you can do spray painting on any surface. Whatever home project you're thinking of that requires painting, an air compressor can support you with it.
Additionally, this combination can install boards or frame doors much more straightforward than hammers and nails. DIY projects are surprisingly easy with this combination.
Besides that, it can handle various simple tasks, like removing sawdust from your wooden project or creating beautiful art designs surfaces. You can never go wrong with an air compressor kept at your home.
5) Oscillating Multi Tool
Need a way to remove a board or plywood that's nailed to the wall? It could be risky to use a hammer. When doing this task, you need to use the best oscillating multitool so as not to damage the wall. This tool is suitable to ensure no damages are done, especially on sensitive surfaces, like door frames.
In addition to such a purpose, a multitool can perform multiple other functions as well. This tool has a wide array of attachments that allow you to perform various tasks, from cutting materials to sanding them. The proper attachment can perform other kinds of tasks.
6) Handy And Reliable Flashlight
Good lighting is a must if you're doing any work around the house or on the job site. For this reason, a flashlight should be added to your must-have power tools list. Safeguarding your safety is possible using it.
You might be working in an area that needs more light, so this tool can be handy. If you can, find the type that can be used hands-free.
Conclusion
With so many brands and model options in the market today, it could be pretty tricky to select the best one. However, one thing you should do is to read reviews online. Ensure to purchase the tools that are, indeed, useful for your DIY projects like Standard Electric. Invest in good quality, and you can be sure to use it for the longest time.